we help you get off to a great start
We want you to get off to a great start with your Australian Labradoodle puppy and provide you and your new companion with the following items:
Veterinary Health Exam and Vaccination Record
Preventative de-worming
Microchip
2-year genetic health warranty
Social and Early Neurological Stimulation (ENS)
Early Scent Introduction (ESI)
Fleece blanket
Stuffed toy with littermates' and mom's scent
Leash and collar
Chew toy
Plush Toy
Sample of puppy's current food
Copy of Contract and Health Warranty
ALAA and WALA Registration documents (after proof of spay or neuter)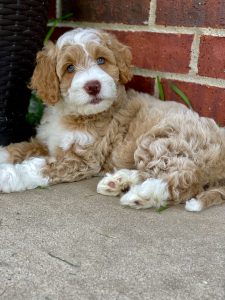 CHeck out Avery Lane's Amazon Storefront!
Enjoy perusing this amazing list of products that we have carefully hand selected and highly suggest! Our Amazon Storefront acts as a one-stop-shop for you to browse all of our favorite products.
*As an Amazon Influencer, I earn from qualifying purchases.